Famous host and VJ Mathira took it to Instagram to share her story of getting bullied by actress Sonya Hussayn.
Mathira has been a part of this industry for a decade now and recently she shared her experience of the IPPA awards where she was invited. Mathira who takes no regrets in openly sharing her life stories on social media this time gave a reality check of the industry and called out to those who don't like her.
She uploaded a story on Instagram pinpointing Sonya hussyn for being fake and called out on Mathira. She said in her story that she wanted to take the burden off her chest and wanted the world to know what and how Sonya is. She also indirectly blamed many other celebrities who had bullied her in the past.
Mathira said that when she was on the bus when "other celebrities informed her about how fellow actor Sonya Hussyn thought she was a shemale." The actor added how she felt belittled even though she had been minding her business. "I still managed to help her out because she [Sonya] seemed lost and her English isn't very good. I was still kind but this woman didn't say sorry or thank you," she said adding, "Girl, you are fake. The only person who hugged me and told me to smile was Azfar Rehman."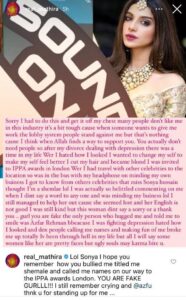 In the next Instagram story, Mathira went on to thank the people who extended support. "I have been bullied before but I kept quiet because I had no confidence and didn't believe in myself," she said, adding, "The woman I was back then and the woman I am now – there's a huge difference. I am positive [towards life], out of depression, and know how to take a stand for myself."
The Zahe naseeb actress Sonya Hussyn responded soon after Mathira uploaded her story and cleared the feud in the air by saying that there was some miscommunication, she called Mathira her sister and said that they both had cleared the misconceptions.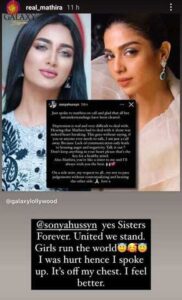 Mathira keeps getting comments on her body and image and body shamed. Previously, many also accused her of getting surgeries while body-shaming her once again. In response to this sudden outburst, Mathira took to her Instagram stories and had written, "I'm chubby and I'm happy like this. Who are you to shame me? Focus on yourself please."