Pakistani Tiktok star Jannat Mirza had posted some videos on her Tiktok account in which she was seen wearing some jewelry that had some butterflies and a cross in it, the Christian community did not like this and filed an FIR against Jannat Mirza.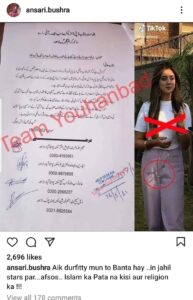 According to Mirza, she did not realize this and later it came to her notice through the comments and she immediately apologized for it. On the other hand, Veteran actress Bushra Ansari had commented on Jannat's picture accusing her of hurting the sentiments of the minorities in the country, to which Jannat Mirza responded in a brutal way defending herself.
She called out Bushra Ansari as "Amma Jee" and asked the actress to first know the whole story and then comment it out. The tiktoker had also mentioned how Islamic Bushra Ansari is and people did not like that.
View this post on Instagram
Ansari, later on, apologized for not knowing that the TikTok star had cleared the air. She also mentioned how these young stars should respect their elders and how they should treat the elders.
Tiktoker Alishba Anjum and Umer Butt also stood in favor of Jannat Mirza and went too far to support her. Fans certainly are not liking the actions of these tiktokers against the actress Bushra Ansari.
View this post on Instagram