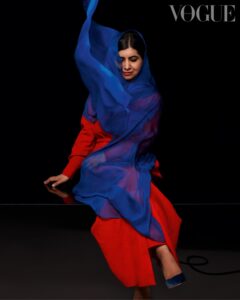 Pakistan's Malala Yousafzai has featured on the cover of this month's Vogue magazine, as the activist spoke about her struggle for women's education.
Malala, 23, was shot in the head by a Taliban gunman in Oct 2012 when she was 15 after campaigning for girls in her native country, Pakistan, to have equal rights to education. At 17, she became the youngest Nobel laureate, receiving the prize for her "struggle against the suppression of children and young people and for the right of all children to education".
She is also friends with Greta Thunberg, has earned high praise from Apple's Tim Cook and Michelle Obama, and was star-struck by Brad Pitt. These are just some of the things she shared in her new interview with British Vogue for the magazine's July issue.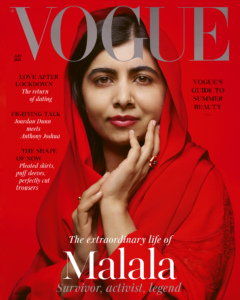 Malala was among the class of university students who graduated during the pandemic. In March 2020, she moved back to Birmingham to complete her final year at Oxford University from her parents' home.
Malala's views on marriage might come as a surprise to some, but probably not. Like most young people, she's aware of the institution.
She spoke about how her friends were all finding partners but she wasn't sure what she wanted. "You know, on social media, everyone's sharing their relationship stories, and you get worried…If you can trust someone or not, [and] how can you be sure."- Malala
Malala's parents had an "arranged love marriage" but she isn't sure if marriage is for her.
"I still don't understand why people have to get married. If you want to have a person in your life, why do you have to sign marriage papers, why can't it just be a partnership?"
Like most Pakistani mothers, hers is suitably horrified at her daughter's opinions. "My mum is like, 'Don't you dare say anything like that! You have to get married, marriage is beautiful," said Malala.
But while Malala was once quite anti-marriage, she has realized that she's still growing and as we grow, our opinions change. Of everything she said in her interview, this was one of the most relatable things, we feel because most young people today do struggle with the idea of marriage. They're questioning ideas that have been drilled into their heads for years and at 23, Malala is at an age where those questions are at their peak.
She also mentioned how she is annoyed by the Culture of having a lavish wedding with the dowry, to show how much the parents can do for their daughter. She claimed that the dowry culture is pretty much not needed in our society and that parents spend more on a daughter's wedding rather than her education.
No one has it all figured out, and it's comforting to know that someone who seems like she has everything together is as confused as us.