The Oscar-winning director Sharmeen Obaid Chinoy slams Sonya Hussyn on the comments that she made on the star Mahira Khan.
Sonya made an appearance alongside Asim Azhar in one episode of the talk show the Aftermoon show with Yasir, in which during a segment Yasir asked Sonya a question that if she were Mahira Khan and had chosen one film that she did not want to work in, what that film would be?
View this post on Instagram
A clip had been circulating on social media recently in which Sonya Hussyn was answering some questions.
Sonya's answer was Raees when given options were Verna, Raees, and Ho Mann Jahan. She added that her goal was never to work with Shahrukh Khan but work where her role would be prominent and she wouldn't be just a sidekick to the hero when passing comments on Mahira's role.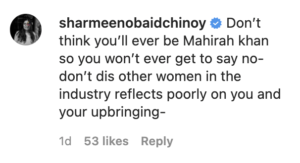 While Sharmeen was right by her side, such questions should be avoided by the hosts which would make any sort of disagreements in the industry.