Sindh Chief Secretary Syed Mumtaz Ali Shah, in a meeting at the Sindh Secretariat, announced that the Sindh government has warned all businesses and factories that they will be shut down if their workers are not vaccinated.
Provincial authorities have further tightened COVID-19 restrictions, extending them for two more weeks and banned public movement after 8 pm to curb the spread of the virus.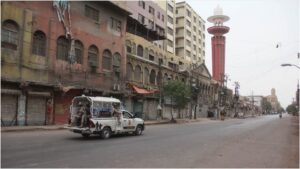 The Sindh Government had further tightened the Covid-19 restrictions and extended the partial lockdown for two more weeks and banned unnecessary public movement after 8 pm to stop the spread and rise in covid cases.
The health department officials of Sindh have briefed the participants that so far, 285 special centers have been set up across the province to vaccinate people against COVID-19.
It was also informed that so far 1,106,384 people in the province have been vaccinated against the virus.
The chief secretary directed the officials to increase the number of vaccination centers in their respective jurisdictions.
In addition to 24 more deaths, 1,293 new cases of Covid-19 emerged during the previous 24 hours after 22,043 tests were conducted. The information to this effect was provided by Sindh Chief Minister Syed Murad Ali Shah on Wednesday in his daily statement on the pandemic situation in the province. He explained that with 4,966 deaths so far, the fatality rate of Covid-19 in Sindh stood at 1.6 percent.
Murad Ali Shah mentioned that out of the 1,293 new cases, 764 belonged to Karachi. Of them, 277 belonged to District East, 159 to District Central, 108 to District Korangi, 101 to District South, 65 to District Malir, and 54 to District West.