Has PM Imran Khan's son contracted coronavirus?
One of Imran Khan's sons may have contracted coronavirus,https://newspmc.com/?p=16789&preview=true as per Jemima Goldsmith
A recent tweeted (deleted shortly) by Prime Minister Imran Khan's ex-wife Jemima Goldsmith suggests the couple's son (not known which of the two) has contracted coronavirus.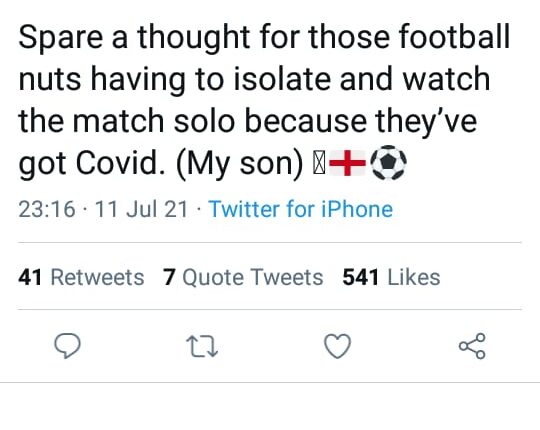 "Spare a thought for those football nuts having to isolate and watch the match solo because they've got COVID. (My son)," Jemima had tweeted.
However, a few minutes after posting the tweet, the billionaire heiress deleted the post.
Jemima has two sons from the Pakistani prime minister; Kasim and Suleman Isa.
It remains unclear who of the two she was referring to.
English fan frenzy turns to misery after Euro 2020 final
England descended into despair late Sunday, as the football-mad country lost after reaching its first major tournament final in over half a century — once again falling short of glory in a penalty shootout.
Fans inside London's Wembley Stadium and in packed out venues across the country were left in misery after England's hunt for its first top trophy since 1966 ended in bitter disappointment.
Read: PM Imran Khan seeks comprehensive plan for state land
"I'm feeling pretty gutted," Louis Adams, 22, told AFP from an east London pub as the victorious Italians celebrated on-screen.
"It was the first chance we had in ages. But it's sport, even if it's disappointing, the players didn't disappoint me at all, they were great," he said, before adding: "I'm gonna get drunk and go home."
Raucous supporters had roared the team on from inside Wembley and at fan zones, pubs, restaurants and living rooms nationwide following a day of frenzied anticipation.
However, the country's hosting of the Euro 2020 final was marred by scenes of violence in the British capital, after hundreds of fans tried to storm into the stadium and "a small number" managed to gain entry.
Security officials reportedly tackled some intruders to the ground inside the venue, while footage shared on social media showed supporters fighting each another on concourses within the ground.
Earlier, drunken fans outside had thrown projectiles — including rucksacks, flares, cans and traffic cones — through the air and chanted aggressively at rival supporters.
London's Metropolitan Police said officers made 45 arrests while managing the final.
"A number of officers remain on duty, helping fans leaving #Wembley or central London. We are there to look out for your safety," the force said on Twitter.