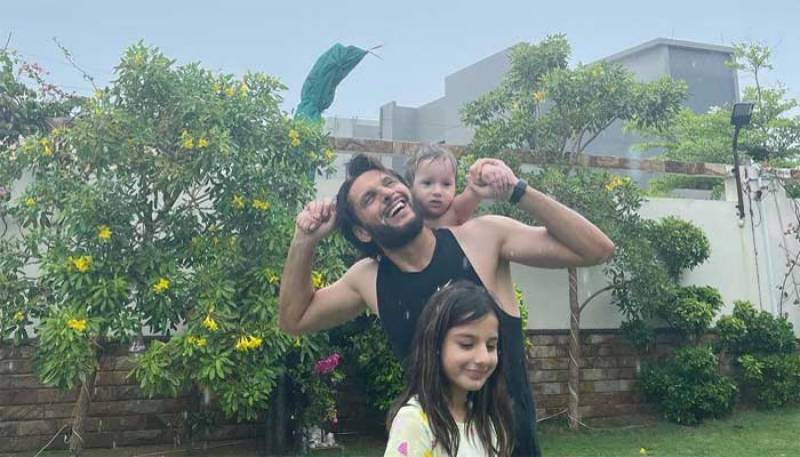 Former Pakistan captain Shahid Khan Afridi Monday shared pictures of his daughters and him enjoying the Karachi rain.
"Karachi ke baarishein aur hum," posted Shahid Afridi.
View this post on Instagram
The former Pakistan captain can be seen, beside himself with joy, as his baby daughter and others celebrate in the rain with him.
In one of the pictures, Shahid Afridi's baby daughter can be seen on her father's shoulders, as he smiles and watches the rain fall from the sky.
In another picture, this one taken from the front, shows Shahid Afridi with two of his daughters this time. His toddler is still behind his shoulders as the three look up towards the sky.
In the third picture, all three can be seen (image has been taken from the back) showing Shahid Afridi and his two daughters pointing towards the roof of their house as the rain continues to pelt their house.
Shahid Afridi pens down emotional note for Dilip Kumar
Former Pakistan cricket captain Shahid Afridi took it to twitter to pen down an emotional note for the veteran actor Dilip Kumar who passed away at the age of 98 on Wednesday.
Afridi wrote, "Indeed to Allah we belong and to Allah we shall return. A huge loss for yousuf khan sahib's fans from KPK to Mumbai and across the globe, he lives in on our hearts. Deepest condolences to Saira Banu sahiba".
The actor aged 98 was ill from a past few years and lost his battle to life. The news was confirmed by family members.
He was born in Peshawar, Pakistan and later shifted to Mumbai with his family and pursued acting in 1944.
The actor was suggested the screen name "Dilip Kumar" while his real name stands as Yusuf Khan.
His demise was received by both sides of the border and his visit to Pakistan was also recalled by politicians, and artists.
His loss has been considered as one of the greatest losses of Bollywood Industry.