A duo has sparked outrage in Pakistan after posing in front of a fifty-feet tall monument of Quaid-e-Azam Muhammad Ali Jinnah at the Islamabad expressway, with a prominent journalist calling for the people to be arrested.
Investigative journalist Ansar Abbasi demanded the duo be arrested for spreading 'immorality'. Abbasi took to Twitter to ask Deputy Commissioner Islamabad to take action against the two persons.
Commissioner Hamza Shafqat had asked people to share photos and details of the couple if anyone knew them.
#Vulgar #Photoshoot in front of Quaid-e-Azam statue in #Islamabad #SparksOutrage pic.twitter.com/n52j68hTZ7

— 🤪Jungli Bili😏 (@Apsabkijan) August 2, 2021
A recent photoshoot shot in #Islamabad in front of the Quaid monument.

They shared in response that, "we did this shoot to show respect for Pakistan, and specifically to these three ethics that we are proud to uphold."@dcislamabad sir ?????? Is it okay ?? pic.twitter.com/DZB81FCZOf

— ChTalha Ahmed Gujjar (@iamchtalha) August 3, 2021
Ansar Abbasi was criticized for his actions against the couple by people on social media, who advised him to do something better with his time.
Dear DC! I appreciate your action. And please don't bother about the criticism from the defenders of nudity and obscenity. As per the law of the land, you must act to prevent those who are spreading obscenity in public. https://t.co/zeLDjJM9Bl

— Ansar Abbasi (@AnsarAAbbasi) August 3, 2021
Artists react to the backlash
The duo is known as "Mystical Shayari" on social media. The duo took to Instagram telling how they have been receiving threats and criticism from the public. They further pointed out those who started the outrage on social media and said that such a photoshoot isexpression of a form of freedom.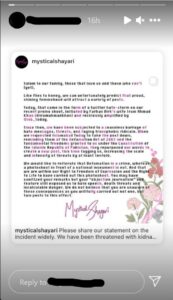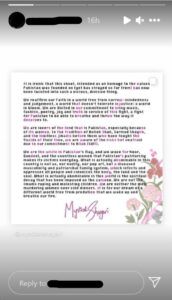 The duo's songs Yeh Dunya and Disco Rani can be found on Spotify and Soundcloud.