Legendary singer and Bollywood's king of disco Bappi Lahiri passes away at 69
Bappi Lahiri passes away at age 69 from OSA (Obstructive Sleep Apnea)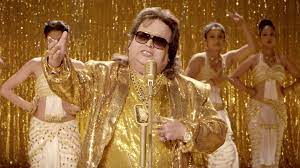 The Famous singer Alokesh Lahiri more popularly known as Bappi Lahiri or Disco king passes away at age 69 due to OSA (obstructive sleep apnea) a at 11:45 pm on February  14th 2022.
Bappi Lahiri was admitted in Mumbai's CritiCare Hospital in Juhu for one month prior. According to Dr Deepak Namjoshi, director of the hospital, his lung infection was caused by OSA (obstructive sleep apnea). He was suffering from multiple health issues alongside his OSA, was admitted to the hospital for one month and was discharged one day prior to his death with normal vital signs and approval from his doctors.
However his health quickly deteriorated and was admitted back on Tuesday 15th February where he was under special care, unfortunately his condition became worse and his body eventually gave out at 11:45 pm that night.
This event taking place just 10 days after India lost its nightingale Lata Mangeshkar. In a 2012 interview he described his childhood interactions with the great singer, referring to her friendship with his father he claimed without Lata to sing his first composition in a Bengali film Daadu. He would have been "swept away by the competition".
This tragedy of losing both iconic singer and composer has left Bollywood stars, politicians and fans everywhere in grief.  Many send their condolences all through social media to the king of disco.
Akshay Kumar in a tweet said "we lost another gem from the music industry".  His voice was a great source of happiness and a reason to dance for millions including him.
Today we lost another gem from the music industry… Bappi Da,your voice was the reason for millions to dance, including me. Thank you for all the happiness you brought through your music. My heartfelt condolences to the family. Om Shanti 🙏🏻

— Akshay Kumar (@akshaykumar) February 16, 2022
Kareena Kapoor Khan shared a picture on instagram story with the caption "aar Bina chain Kanhan Re RIP KING".
Indian Prime Minister Modi also added "Saddened by his demise. Condolences to his family and admirers"
Shri Bappi Lahiri Ji's music was all encompassing, beautifully expressing diverse emotions. People across generations could relate to his works. His lively nature will be missed by everyone. Saddened by his demise. Condolences to his family and admirers. Om Shanti. pic.twitter.com/fLjjrTZ8Jq

— Narendra Modi (@narendramodi) February 16, 2022
Bappi lahiri was infamous all throughout the 70's till now for his iconic songs, compositions and featured soundtracks in films like "Itheha Wo Hogai Intezar Ki" from the film Sharaabi , "Raat Baaqi Baat Baaqi" from the film Namak  and more recently"oh lala" from the film the dirty picture , "tune mari entriyn' from gunday,  and I am a disco dancer from the saregma tailoring disco jacket. He also had a brief political career after joining the Bharatiya Janata Party on 31 January 2014. He was selected as a candidate for the BJP from Srerampur (Lok Sabha constituency) in 2014, however lost the election to Kalyan Banerjee of All India Trinamool Congress.
His family, in an official statement has said the funeral will take place tomorrow after his son arrives from the US, "It's a deeply sad moment for us. Our beloved Bappi Da has left for heavenly abode last midnight. The cremation will take place on arrival of Bappa From LA tomorrow mid-morning. We are seeking love and blessings for his soul. We will keep you updated". – Mrs .Lahiri, Mr.Gobind Bansal, Bappa Lahiri, Rema Lahiri.