Pakistan has been reporting fewer coronavirus cases for two weeks. The positivity ratio seems to fall with cases declining after the third wave had taken over the country drastically.
According to the statistics released by the National Command and Operations Center, in the last 24 hours, 54,647 tests were carried out of which 1,043 have tested positive for the novel coronavirus while 39 people scummed to the virus.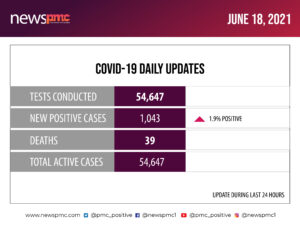 The total number of deaths from COVID-19 in the country so far has reached 21,913 and the total number of cases has reached 946,227, while 888,505 people have recovered from the virus so far. The active number of cases currently stands at 35,809.
Earlier this week, the number of active COVID-19 cases in Pakistan came down to less than 40,000 for the first time since March 24. On March 24, the number of active cases was 37,985.