Pakistani actress Sajal Aly is known for her biting wit and humour. The Pakistani actress recently held a question and answer session on Instagram with her fans during which they asked her questions and she responded with answers.
Some of the questions were harmless in nature, such as the love she holds for Dananeer and which food does Sajal Aly likes to eat most. For the unversed, it is Bhindi Gosht.
However, one fan tried to poke fun at the actress when he said to her that at times, he wants to call her his. Sajal, in her usual biting humour, told the fan that she can call him "aapi" instead.
Another fan asked her about her "khushkhabri", as in, when she plans on getting pregnant.
Not to be outdone, this is how she replied to the fan: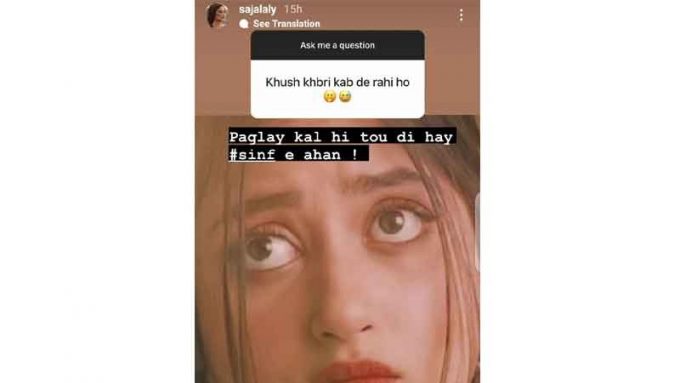 "Paglay, kal hee toh di hai. Sinfe Ahan," she wrote jokingly.
Sinf e Ahan stars a few of Pakistan's most popular actresses such as Syra Yousaf, Rimsha Khan, Kubra Khan, Sajal Aly and others.
Sinf e Ahan can be counted among the drama serials of the year for which the fans have been waiting impatiently.