Shahrukh Khan was seen to be one of the first ones to arrive at Dilip Kumar's residence soon after his demise. Being one of the closest to Dilip Kumar, Shahrukh Khan was like a son to Dilip Kumar and Saira Banu.
The actor was spotted at the residence alongside Shabana Azmi, Karan Johar, Ranbir Kapoor, Dharmendra, and many others also visited the grieved Saira Banu.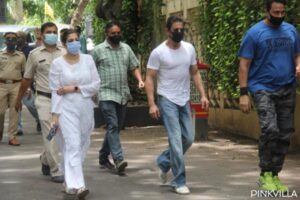 The legendary Dilip Kumar passed away on Wednesday at the age of 98 leaving the Bollywood industry in tears, his demise was grieved across the border as well. Many politicians, sportspersons, actors, writers, and celebrities were saddened by his death.
The burial and final rites of the actor Dilip Kumar originally Yusuf Khan was held in Juhu Qabristan, Mumbai. His Janazah prayers in absence were also held in many parts of Peshawar, his hometown.
Shahrukh Khan rolls out the Red Carpet for the legendary couple
Being fond of the veteran actor, Shahrukh Khan was once seen rolling out the Red Carpet at an award show when the couple was to arrive, the video is now being shared over social media.