The number of Indian Variant cases in the United Kingdom rose to 7,000 yesterday and France became the third European Country to impose a travel ban on the arrival from the United Kingdom.
France follows Austria, which said on Tuesday it was banning direct flights and tourist visits from Britain, and Germany, which said on Friday that anyone entering from the UK would have to quarantine for two weeks on arrival.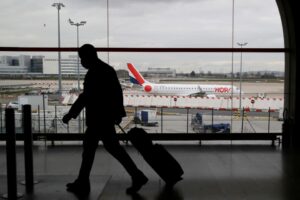 The isolation will need to last seven days, Clement Beaune, France's junior minister for European Affairs, said on Twitter, adding visitors would also need to present a COVID-19 test carried out less than 48 hours before departure.
Germany imposed a two-week quarantine on UK arrivals last week. Followed by Austria.
However, France had planned to allow fully vaccinated travelers from the UK – or those who had tested negative – to visit from 9 June, when travel restrictions around the EU are set to be eased. The decision to allow only essential travel, for example for bereavement or childcare, from 31 May is a setback to anyone in the UK who had planned to go on holiday in France.
UK travelers to France are already required to self-isolate in a designated hotel for seven days, but tighter quarantine restrictions, such as proof of quarantine location and possible police checks, will not be imposed.