NCOC removes PCR test for vaccinated travellers.
The National Command and Operation Centre (NCOC) revised its policy for fully vaccinated passengers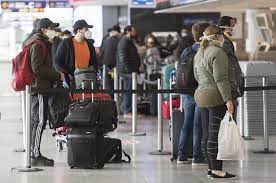 According to the newly revised policy, fully vaccinated inbound passengers will not be required to undergo PCR test before travelling to Pakistan. This will come into effect by Thursday, February 24th 2022.
A recent tweet of the document by the NCOC states the details of the new policy.
With effect from 24 Feb 22, requirement of negative PCR report for passengers travelling to Pakistan has been abolished (for fully vaccinated travelers). pic.twitter.com/S77VctOSDx

— NCOC (@OfficialNcoc) February 23, 2022
The NCOC has made full vaccination a mandatory requirement for all inbound passengers with an exception for children under the age of 12 years. However, passengers between the ages of 12-18 years will be allowed to travel without vaccination only till the 31st of March, 2022.
Consequently, Non-vaccinated passengers over 12 years of age will have to submit negative PCR conducted within a 72 hours' time frame before departure.
The department also stated deportees and non-vaccinated individuals at border terminals will have to take a rapid antigen test (RAT) and individuals who are found positive will be required to quarantine themselves at home for 10 days.