Novak Djokovic says he's ready to play "better than ever" after deportation incident in Australia.
World renowned tennis player set to make comeback in Dubai after being denied at the Australia open tournament.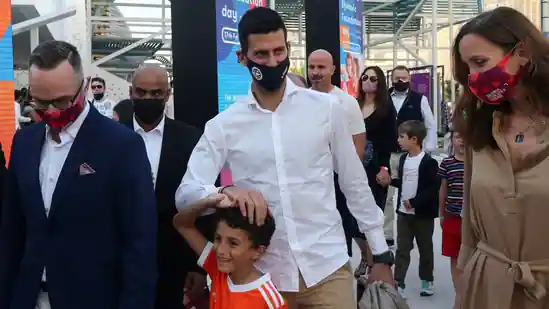 In an interview Novak Djokovic describes how he's ready to play again despite the setback left on his career after last month's incident. He was deported from the Australia and missed the Australia open tournament in Melbourne because he was unvaccinated at the time
The 34-year old said that the incident may have left a mark, but that he is aiming for glory again.
"i can't say that things will be the same when i return to the court ..But there is an additional reason to play better than ever," he told serbian public broadcaster rts on Thursday.
He says he has the 2024 paris olympics in his sight, a single big title he hasn't achieved yet.
Novak was given a warm welcome at the Dubai expo 2020 and was all set for the Duty free tennis championships 2022 quoting he missed the game.
When interviewed by The Associated Press Novak he said "I'm excited to go out on the tennis court next Monday," he continued "I miss tennis honestly after everything that has happened.
The tennis player is still unvaccinated while traveling and continues his refusal to vaccination but denies being opposed to vaccines.
He said "as a professional athlete, i triple-check everything that enters my body and how it affects me. If something changes for half percent, i feel it," "i don't like to be associated with certain initiatives or communities. I never said i belong to any initiative," he continued with. "i keep an open mind … Everything is possible in life, we will see how the situation will evolve, but at the moment i decided not to do it (get vaccinated)".
After missing the Australia open Novak lost his title of most grand slams in men singles in the world, World's 5th best male tennis player Rafael Nadal broke his record with 21 grand slams.
In previous interviews Novak had said for bodily autonomy, he would sacrifice more grand slam titles. When asked if he would miss events like Wimbledon and the French open, Djokovic responded:  "yes, that is the price that I'm willing to pay." He continued "because the principles of decision making on my body are more important than any title or anything else. I'm trying to be in tune with my body as much as i possibly can."
Sources suggest he might be willing to get vaccinated in the future and he might have to consider it seriously as governments all over the world still mandate it as a requirement for travel. Already losing one grand slam title the athlete is taking a risky path with both his health and his career.