Biden meets with Polish President Duda, affirms NATO 'sacred obligation'; Russia signals shifting military goals in Ukraine: Live updates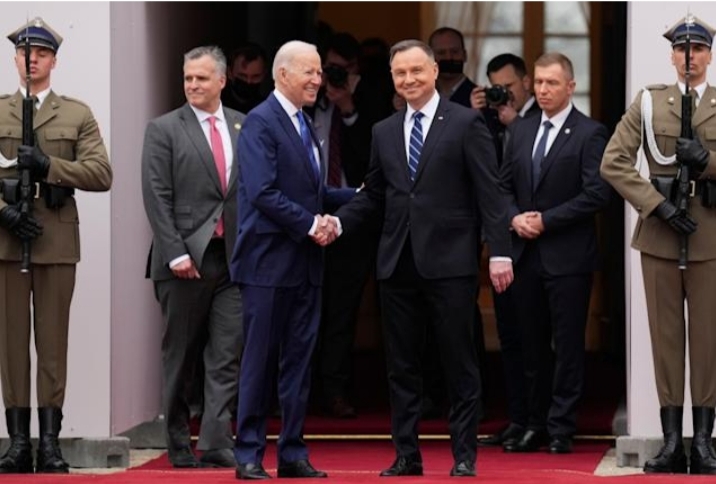 President Joe Biden met with Polish President Andrzej Duda during a historic visit Saturday where the allies presented a united front against Russian aggression and reaffirmed their commitment to the NATO alliance.
The U.S. considers its commitment to defend other members of the North Atlantic Treaty Organization "a sacred obligation," Biden told Duda during a meeting at the Presidential Palace in Warsaw.
Biden is expected to meet with Ukrainian refugees later Saturday and he will deliver remarks that the White House is billing as a major speech before departing for the U.S.
Biden's visit comes as Russia appears to be recalibrating its military strategies in Ukraine.
Russia's military goals in Ukraine have been hazy since it began its invasion more than a month ago, and new statements suggest Moscow may consider claiming victory without completely overthrowing the Ukrainian government or capturing Kyiv.
Western analysts and leaders were skeptical of the Friday statements, where the deputy chief of the Russian general staff said his forces had largely achieved the "main objectives" of a first phase of the conflict. The power of the Ukrainian military has been "considerably reduced," freeing up troops to "focus on the main efforts to achieve the main goal, liberation of Donbas," said Col. Gen. Sergei Rudskoi.
The implications of the statement are difficult to determine, according to Stephen Biddle, a professor of international and public affairs at Columbia University who has studied U.S. wars in Iraq, Afghanistan and elsewhere.
It's plausible that they're basically trying to ratchet their perceived war aims down to something they've already accomplished," he said.
Before the invasion, portions of the Donbas in southeastern Ukraine were already controlled by Russian-backed forces.
Similarly skeptical, French President Emmanuel Macron said "it's too soon to say" whether the Russians have changed their approach.
But what does appear clear: In the face of fierce Ukrainian resistance, the progress of Russian forces has largely stalled. Kyiv — while battered — remains under the control of the Ukrainian government.
Meanwhile, the humanitarian crisis caused by the war continues. A Russian airstrike last week on a Mariupol theater that was being used as a shelter killed about 300 people, Ukrainian authorities said Friday. That would make it the deadliest known attack on civilians in the war yet.