Paramount Pictures has temporarily shut down production on the British set of Tom Cruise's seventh Mission Impossible film after someone tested positive for coronavirus.
"We have temporarily halted production on Mission: Impossible 7 until June 14th, due to positive coronavirus test results during routine testing," a Paramount spokesperson said on Thursday. "We are following all safety protocols and will continue to monitor the situation."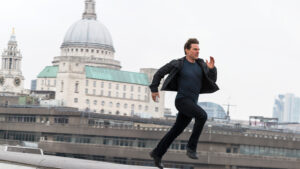 Mission Impossible is one of the first Hollywood films that had to suffer due to worldwide lockdown when the Shoot was halted in February 2020 and resumed back in September. The film had to face another halt when 12 people had tested positive on the sets on the film in Italy. In December, an audio leaked of the star Tom Cruise for breaking COVID-19 guidelines.
Being one of the biggest franchises of Hollywood, Mission Impossible stands to be the favorites of the public and the fans are eagerly waiting for the film to release. The film is scheduled to release in May 2022.